Limestone Screening - Cubic Yard Bag
Regular price

Sale price

$160.00
Delivery Info: We only offer delivery on Sod Rolls (over 40) and Cubic Yard Bags. Everything else is pick-up only.
QUEENSVILLE SOD GUARANTEE*: We guarantee that our products are of the highest quality and are free from any defects at the time of delivery.
Cubic Yard Bags - Delivery available.
Limestone screenings are a type of crushed stone that are made from pulverized limestone rock. They are often used as a base material for hardscaping projects such as patios, walkways, and retaining walls.
Limestone screenings are typically finer in texture than other types of crushed stone, with particles that range in size from dust to 1/4 inch in diameter. They are often referred to as "stone dust" and can be compacted tightly to create a firm, stable surface for hardscaping projects.
One of the benefits of using limestone screenings as a base material is their ability to drain water quickly and efficiently. They can also be easily leveled and compacted, providing a smooth surface for laying pavers or other hardscaping materials.
Overall, limestone screenings are a versatile and durable option for use in a variety of hardscaping projects. They provide a stable base that can withstand heavy foot traffic and help to prevent settling or shifting over time.
Share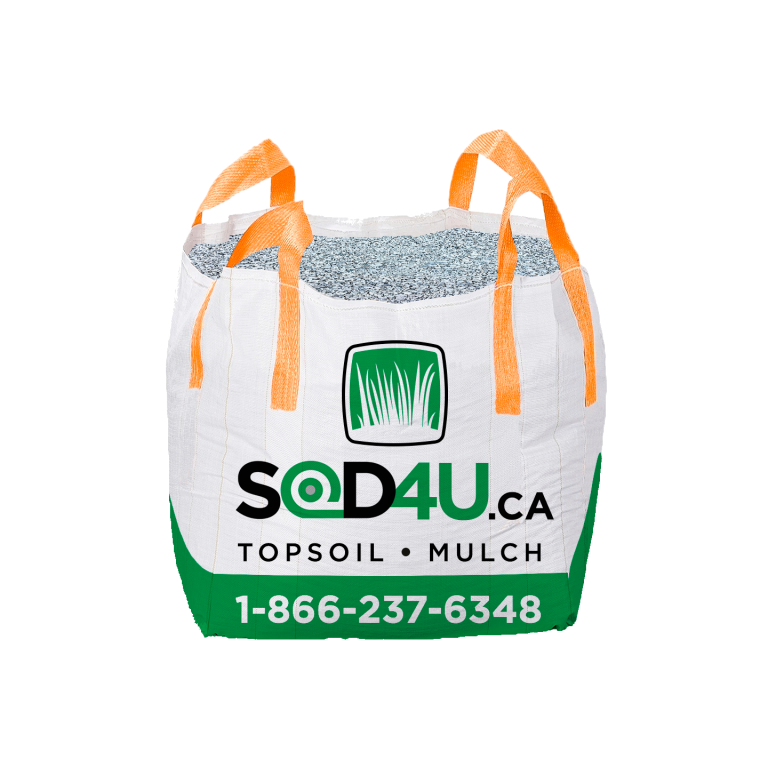 We've Got You Covered
Installation

Installation services for the busy homeowner

Sod Fresh Daily

Sod rolls harvested fresh daily from our local sod farms 

More to Offer

A wide range of landscaping materials

Contractors Welcome

Competitive wholesale pricing for contractors
Testimonials
We had a pleasant experience with Cam and his team. We were looking to place sod in our backyard and Cam arrived quickly to give us a quote. His team arrived punctually on the day of and was efficient. After they finished, they took the time to answer any questions about maintenance. We're extremely happy with their work and would recommend anyone looking for sod to reach out to them!

Cedric Q (Source: Google)
Completing a D.I.Y project at home and finishing it up with some fresh sod. I came and picked up 60 rolls of sod at Queensville sods main retail yard. Everything was very organized and a very smooth process. Went home laid the sod that day, 4 months later and I am very happy with the quality of sod I picked up. Thanks very much Queensville for the quality product!! Highly recommend

Tanner Forsyth (Source: Google)
The sod itself is beautiful and the installation was done professionally and to our complete satisfaction. Cam, Frank, Jude and the team did an amazing job. The team went above and beyond to properly grade the lawn for proper drainage. Queensville sod has an excellent team…. Highly recommend them.. Thanks

Tarique Kaleem (Source: Google)
I've dealt with Queensville Sod multiple times over the years and everyone from the office staff, the drivers and owners have been amazing to deal with! They're professional, friendly and always very helpful. They have excellent quality sod. Don't see a need to go anywhere else… their prices are the best. Highly recommend them!

Elva Yayros (Source: Google)
I just want to thank the Team that put together a last minute sod installation and Mulch Job before a big surprise party for my Wife this weekend!

I called 2 other places one wouldn't come to quote for weeks and the other's price was outrageous and i would have to lay the sod myself.... Very professional company and a pleasure to deal with! The grass was definitely Greener with these guys! Thanks Again!

William Scott (Source: Google)